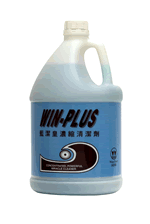 Win-Plus Concentrated Cleaner
- is a highly effective and powerful multi-purpose cleaner designed for quick, effective cleaning and removal of heavy grease and soil accumulation on all washable hard surfaces.
- comes in a highly concentrated form and may be diluted to different concentrations to ensure optimum cleaning performance for different situations.
- is suitable for kitchen surfaces, ovens, exhaust fans, window frame, car engines, etc.